Miami Music Project: 10 Years Of Composing Better Lives Concert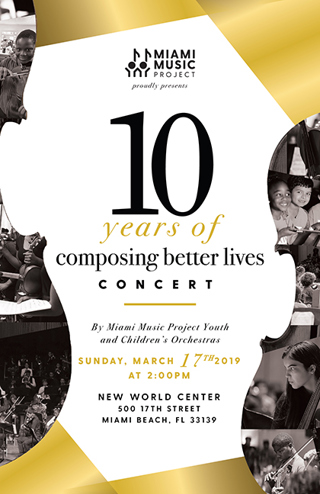 Celebrating musical excellence and the empowerment of the next generation.
Join Miami Music Project on Sunday, March 17, 2019, for it's spectacular 10 Year Anniversary Concert at New World Center!
In honor of this significant milestone, Miami Music Project invites you to experience the very best young talent of musicians this Magic City has to offer. Attendees will enjoy high-quality performances by Miami Music Project Youth and Children's Orchestras, alumni and distinguished guests. The evening will feature a retrospective look at Miami Music Project's decade of sparking social change through the transformative power of music around Miami-Dade County.
For ten years, Miami Music Project has been bringing quality music education directly into communities who need it most, providing thousands of  students with free instruments, intensive music instruction, orchestral training, and a variety of life-changing cultural experiences. Year after year, students have emerged from the program with improved academic achievement, transferable life skills, and long-lasting friendships — all from a shared commitment to music. As cuts in funding for the arts and after-school programs increase and news reports of youth violence continue to pour in, we are reminded that our work has never been more important.
Grab a ticket and be part of a movement that creates pathways that inspire opportunity, excellence, and brighter futures for the next generation!
This performance does not include the NWS Fellows.
Related Events